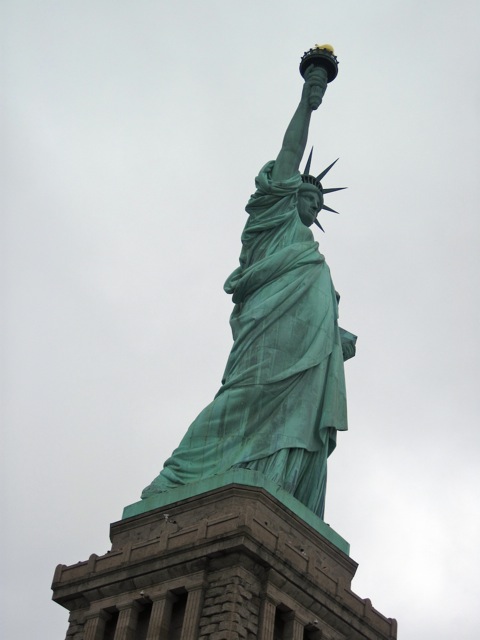 New York, 2011
For Keith's 40th birthday, we decided to get away to someplace he's never been : New York City.  See the city, eat at some great places and no kids!
Grand"maw" Joan flew down from St. Louis on Wednesday night to watch the kids, and we had an easy morning Thursday getting ready to head to the airport.  Our day was not going to stay easy. As we pulled off the highway and approached the parking garage, Jill got a message from Southwest that our flight was delayed 2 hours. We pulled off the road to evaluate our options, but decided that 2 hours wasn't enough to do anything else, so we parked and grabbed the shuttle to the airport. We decide 2 hours is too long to haul our bags around, so we check them.
Just as we got through security, another message : now we're 3 hours delayed. We do the math and realize that checking our bags may have been a mistake and we would be a little rushed to get to our hotel, changed and then to our 7:45 dinner reservations at Babbo, Mario Batalli's flagship restaurant. We have trouble getting a takeoff slot from the tower and our fears continue to rise. We land in Newark, have to wait for our gate to open up and then find that the terminal Southwest uses is under construction and the baggage claim is a dump. We wait 45 minutes for our bags…
At this point, we know we're in serious danger of missing our reservation, even if we take the fastest route directly to the restaurant. We hightail to the train to Penn Station and luckily don't wait at all. Jill does her makeup on the train and then we decide, as the train is nearly deserted, that we could probably change clothes for dinner. Jill gets into her jeans and shoes, but then we stop on Newark and the train fills up and thats all we can do.
Jill calls the restaurant and they say taxi or subway would take about the same amount of time. We decide taxi as to not hassle with getting metro cards and figuring out which train to take. But when we emerge from Penn Station, it is drizzling and steamy hot (they had hit 100 during the day). The taxi queue is very long. We head back inside, grab cards, jump on the right train and get within a block of the restaurant very quickly. We haul our luggage a block and into the very cramped and over crowded bar area of Babbo. Keith beelines to the bathroom, which is absolutely tiny, and changes into his dinner clothes. We get our table and Jill makes a quick trip to the bathroom to change her top. So, here we are, in New York, at Babbo, harried and stressed, but finally able to relax, catch our breath and start to enjoy ourselves. And we do!
Dinner at Babbo is amazing. The food is really good, but the service is spectacular. Our waiter had only been there a few days, but he was obviously a very experienced waiter and the whole staff worked together to time every step of the meal perfectly. They brought out a chickpea bruschetta that was a great starter, and we had a glass of white wine to help us wind down. We started with Marinated Sardines and Beet Tartare as appetizers, then Braised Oxtail Gnocchi and Beef Check Ravioli for our pasta course.  For secondi, we had Charred Beef Tongue and Guancia Ripiena (pig cheek stuffed with pork sausage).  We finished with a Crostata, a decaf espresso and 2 glasses of grappa. We were trying not to be rude, so we didn't take pictures of our food, but we did take one of the fabulous red wine.
The star of our meal was definitely the Guancia, but everything was fantastic. The beef cheek ravioli may have been the richest pasta I've ever eaten. I recommend looking at the menu or if you need pictures, looking at this blog.
We jumped back on the subway and headed to our hotel, the Omni midtown, with 2 nights free courtesy of Jill's constant business trips to Corpus Christi. We did have to pull our bags through Rockefeller between the subway and our hotel.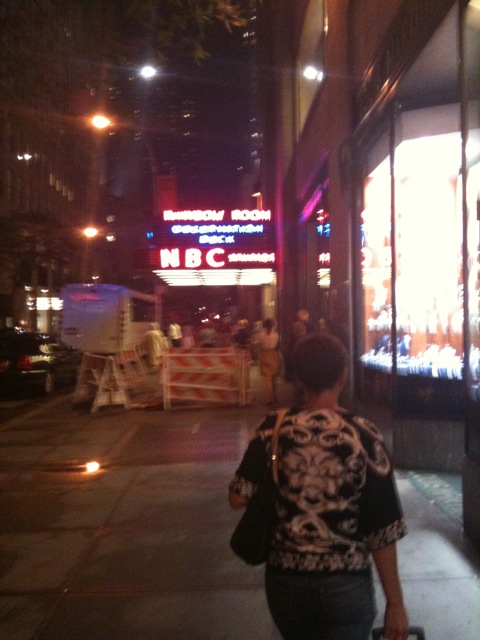 After freshening up, we headed back out to cruise up 5th Avenue. We made it to the corner of Central Park and visited the very impressive 5th Avenue Apple Store (open 24 hours!)
We made a tiny stop on the way back to the hotel at a place that advertised a perfect martini. It wasn't perfect, but it was a good ending to a long day.
Friday
We took our time sleeping in and getting ready, so by the time we got outside and to Rockefeller, the Today Show concert in the street had finished and the crews were working on tearing down the stage. Which, to me, was perfect timing. We were able to sit in Bouchon Bakery, eat a slow roasted pork sandwich and a french macaroon (our new favorite sweet snack) and watch the crew work.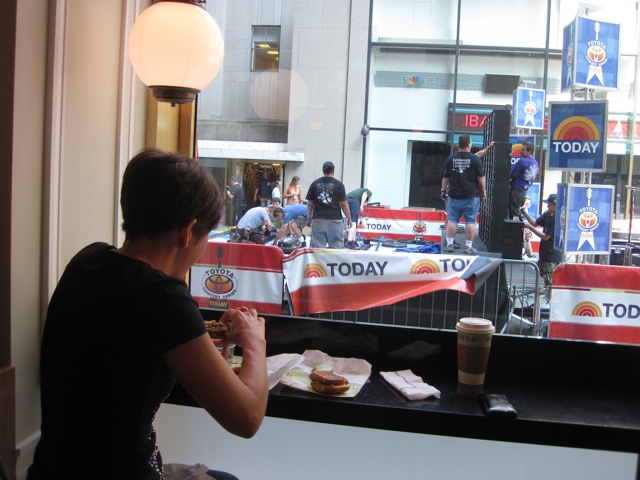 Since we were already at Rockefeller, and we've heard horror stories about the wait to get to the top of the Empire States Building, we signed up for a day and night ticket to the Top of The Rock. We had a few minutes before our scheduled elevator time, so we wandered around the shops. A wonderful chocolatier gave Keith a free sample of Early Grey truffles. Yum! The elevator ride up 68 floors in 45 seconds was pretty impressive, especially since the ceiling of the elevator is glass and the elevator shaft was lit.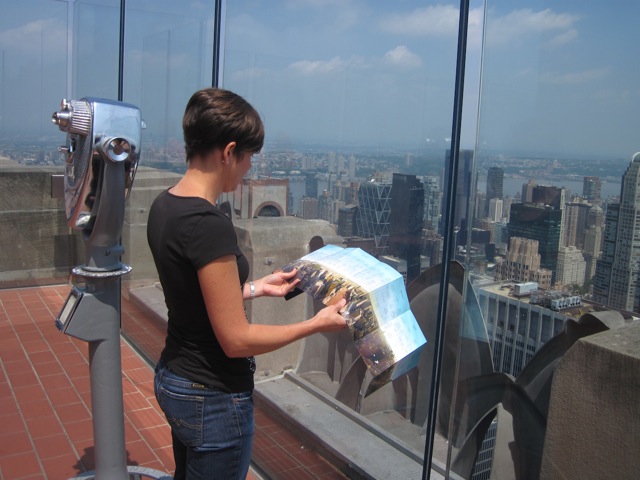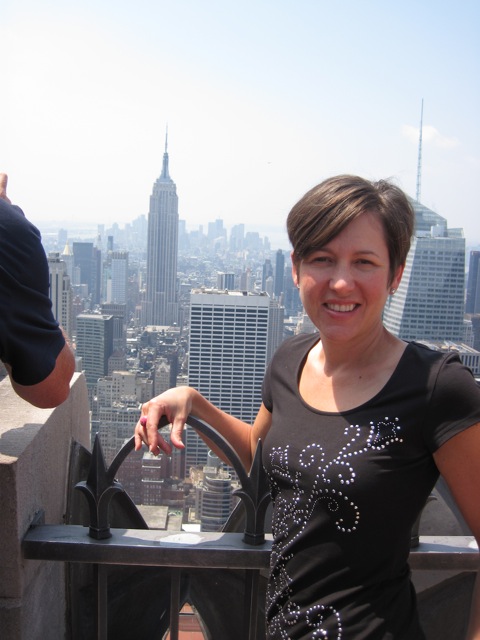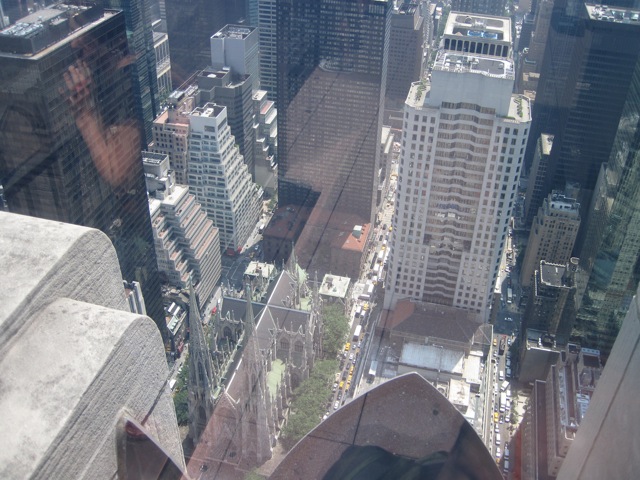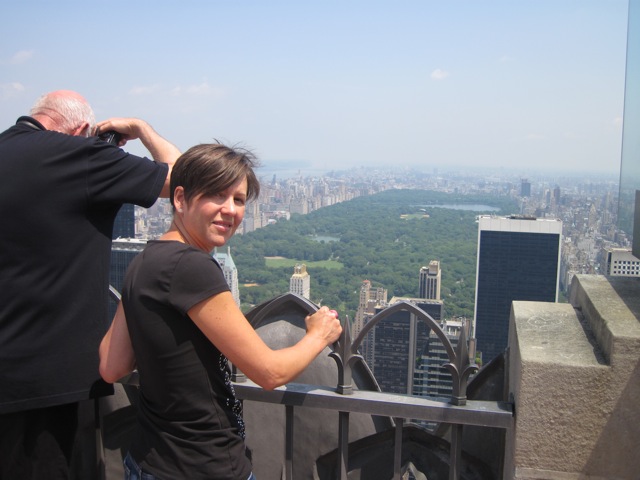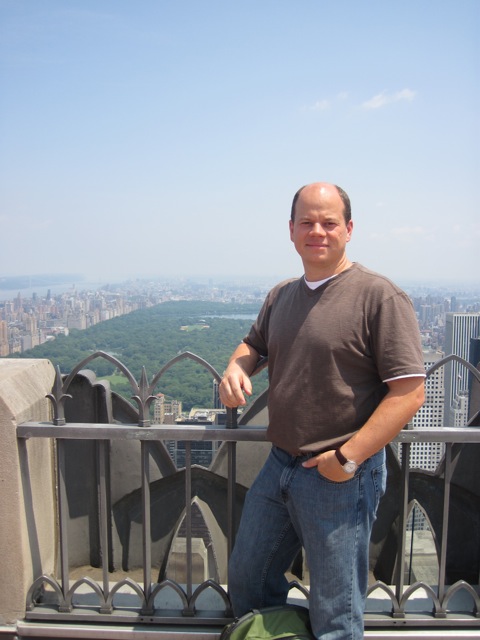 From there, we walked over to Times Square just to get a feel for it. It was crowded and hot, so we didn't stay long. We took the subway from there to Grand Central Station, which was really neat to see and nothing like we expected. The shops and dinner in the various "halls" were really neat and we stopped for a couple of slices of good New York style pizza.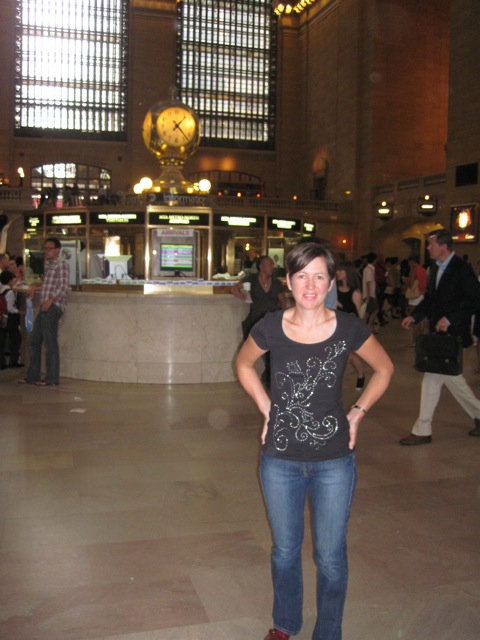 We walked from Grand Central over to Bryant Park, to the "Southwest Corner", sponsored by Southwest Airlines. We sat in comfy chairs, had a drink and took a break for a bit to enjoy the shade and watch the locals.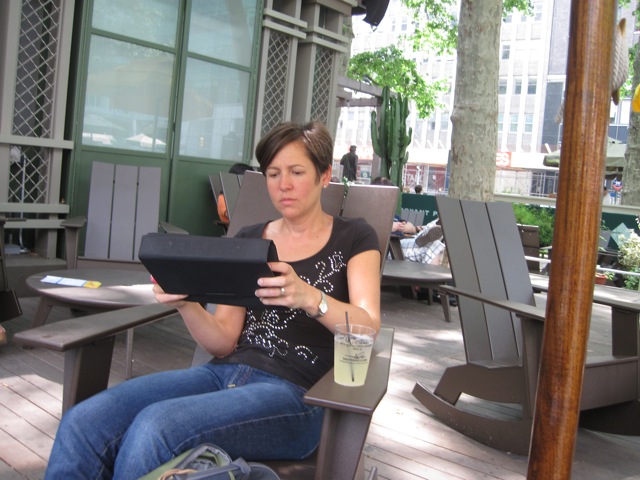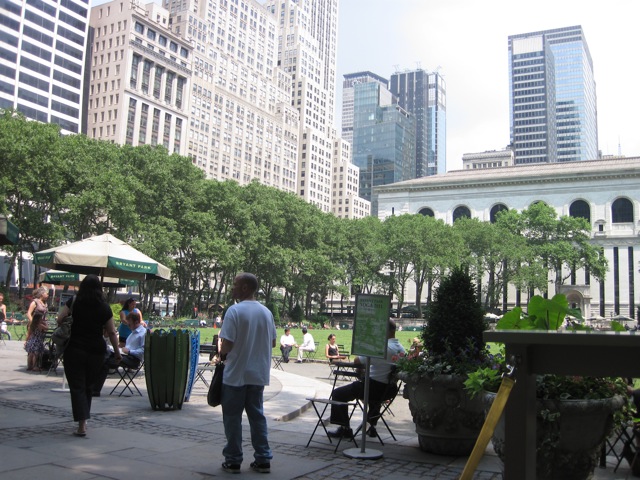 From there, we jumped on the subway again and headed to 5th Avenue to do some actual shopping. Luckily, Jill wasn't into hitting any of the high end places and we instead went to H&M, a "value" European style clothing store. Somehow, Keith ends up spending way more than Jill. From there, we hit the hotel and get ready for dinner at Esca, where we have early pre-theater reservations. We realize when we get to the subway that its 5:15 on a Friday and everyone is riding the subway. After letting one train go by full, we stuff (and yes, we really did stuff) ourselves into the next one.
Esca is Mario's seafood restaurant in Hell's Kitchen. The food is amazing, and the service, while not quite as perfect as Babbo, is still excellent. We're seated between two strange couples, with just a foot between each of the three couples. Not ideal, but not terrible. We start with Polipo, grilled octopus with corona beans, and Moleche, grilled soft shell crabs with peas and mint, as well as an order of tuna carpaccio.  All good, but there is a reason we Texans like to deep fry our soft shell crabs: they are better that way. The octopus is fantastic, and the tuna is perfect (one of the strange couples next to us ordered it as well and took a single nibble before rejecting it – we were dismayed). Next course is lingiuni with briny mahogany clams and Capesante, seared sea scallops with sugar snap peas, mint and guanciala. The linguini is, as we were warned, so salty (briny if you're being polite) it difficult to eat.  The scallops and the sugar snaps are divine. Seriously, and I rarely use that word. Dessert is espresso and Budino, a goat milk ricotta gelato (I think there was more to the dessert than that, but my memory is a bit foggy).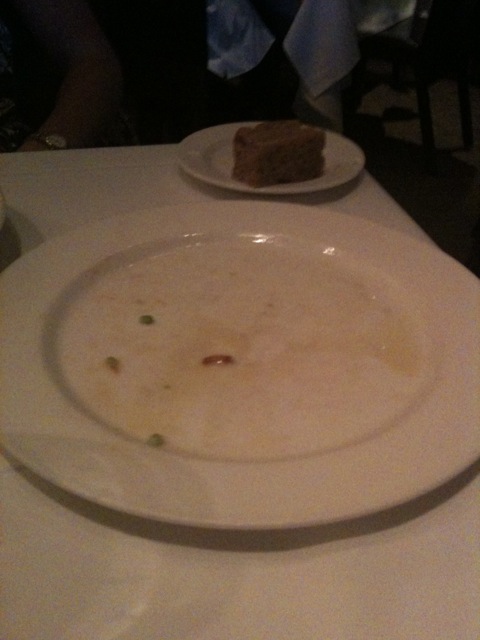 From Esca, we grab the subway to the theater district to see House of Blue Leaves. When we get to our seats we realize that Jill has gotten us amazing seats. Front row, right off center of the set, where most of the action occurs. Ben Stiller is great, Edie Falco is amazing and Jennifer Jason Leigh nails her role. The play is very dark, not as funny as we expected, but very good. At one point, Stiller is knocked to the ground on the edge of the set. We are so close, Jill tells the lady next to me to touch his hair.  I'm sure he hears her. So, if we ever meant Ben, we have something to talk about…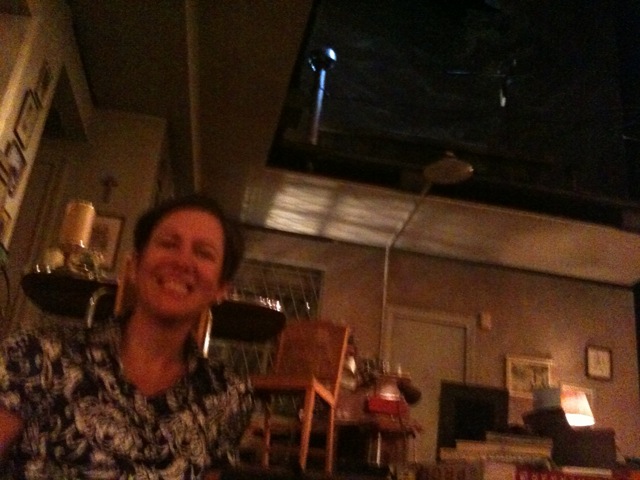 From the theater, we walk to Rockefeller and use our night pass to the top. Fantastic view of New York at night. We're glad we did both, as the daytime is for figuring out what and where everything is, and the night is for the beauty of the lights.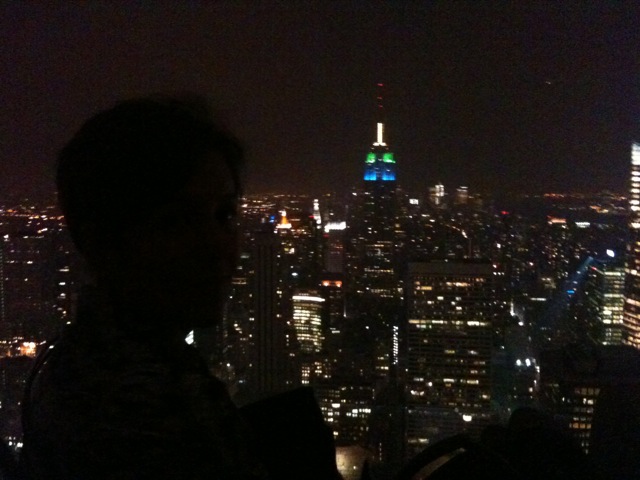 From there, we duck into the Pig and Whistle for a couple of drinks and then back to the hotel.
Saturday
This is our pure tourist day. We are not good tourists. We start by grabbing the subway straight to the South Ferry terminal. Its a little drizzly out and much cooler than the previous days. We jump in the line and remember why we aren't good tourists: its all the other tourists. Line cutting, inconsiderate, annoying people. But we make it on the ferry and head to the Statue of Liberty.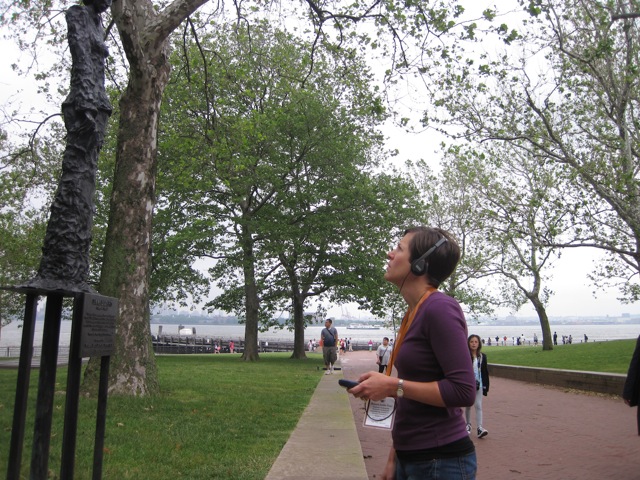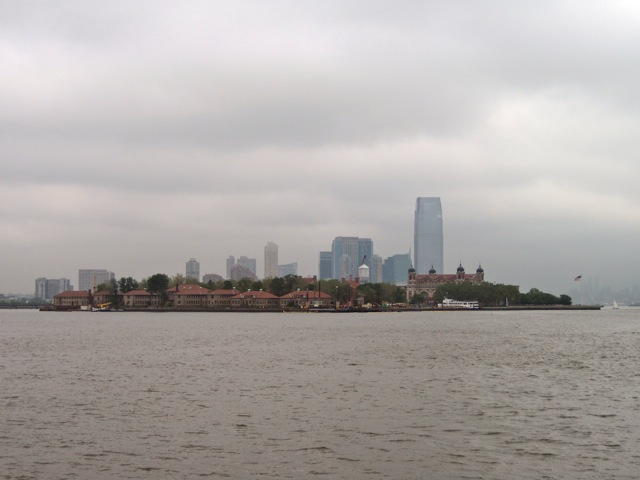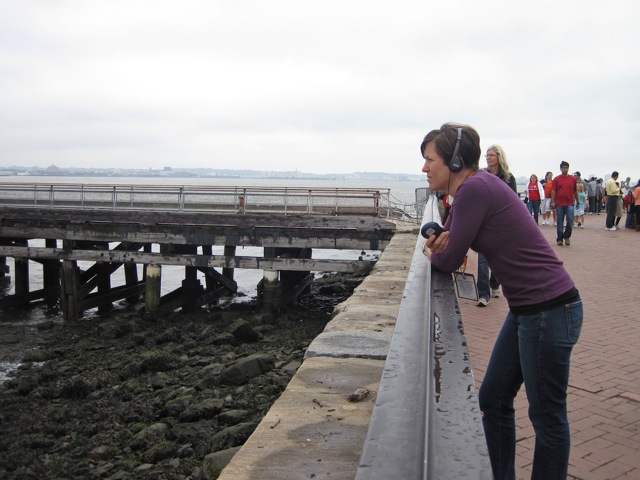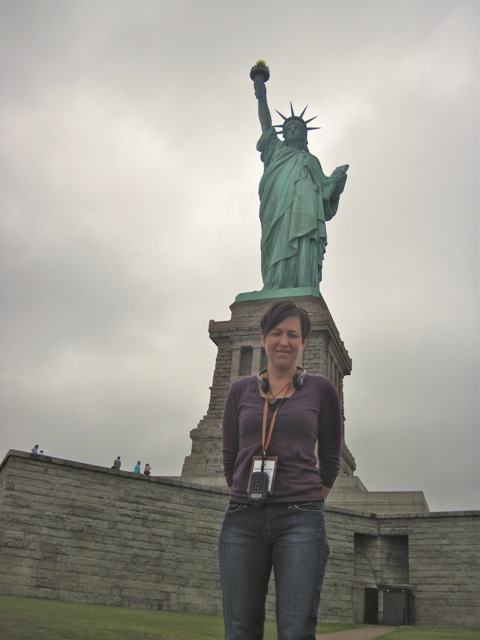 There are people everywhere, of course. We're constantly waiting for a photo, or trying to step around a photo, or waiting for people to move on. It starts to wear on us. I start taking pictures for a collage I plan to call "I Hate People."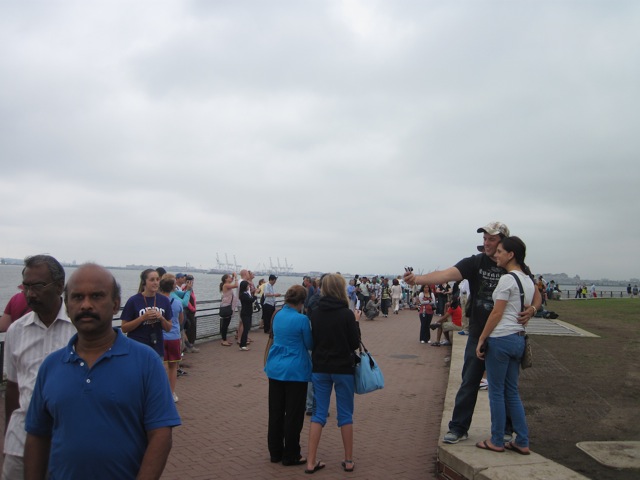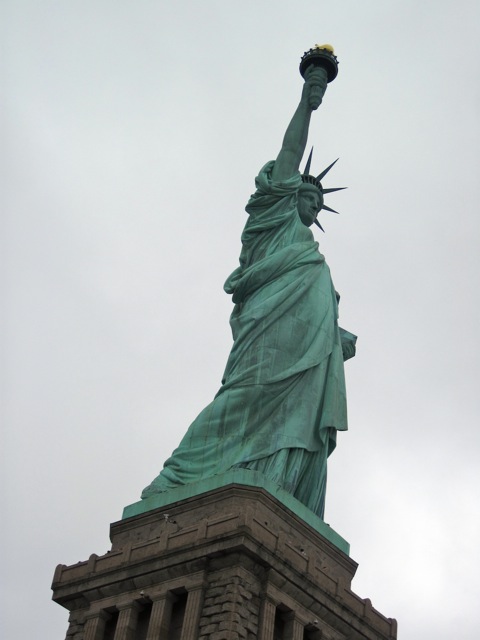 We line up for the ferry from the Statue to Ellis Island. This is the most annoying line yet.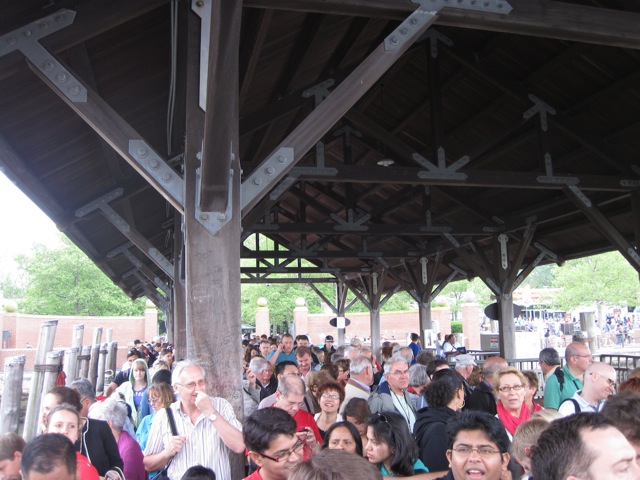 Ellis Island is interesting, and not quite what we expected. We do the audio tour there as well, and am very glad we did. You don't really see much of the island, mostly just one building, but with the audio tour, we get an understanding what a monumental undertaking it was for immigrants coming into the US through Ellis.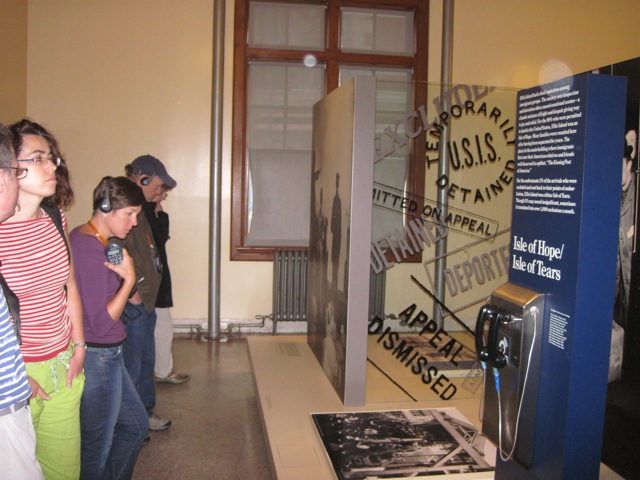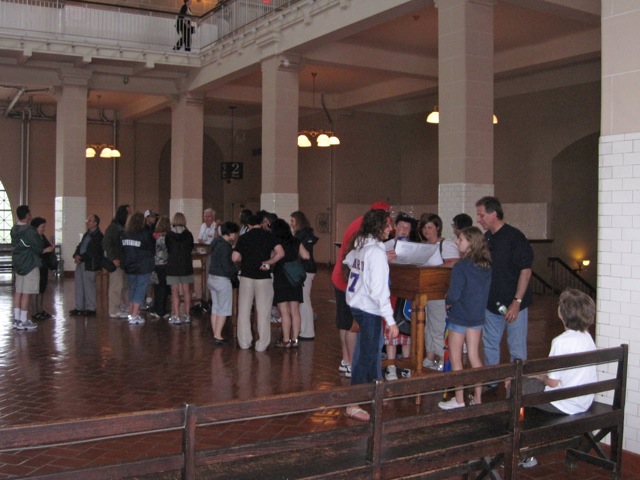 Luckily, the line for the ferry back to Manhattan isn't bad and I don't get to add additional photos to my collage. From the South Ferry, we walk into town and make a quick visit to Wall Street. Its raining and not very nice out, so we continue up to Les Halles, a french restaurant made famous partially by Anthony Bourdain, who cooked there for a short time. Its lost some of its "frenchness" for sure and I know Chef Perrier will tease me for even going, but its good and a nice break from the rain and cold.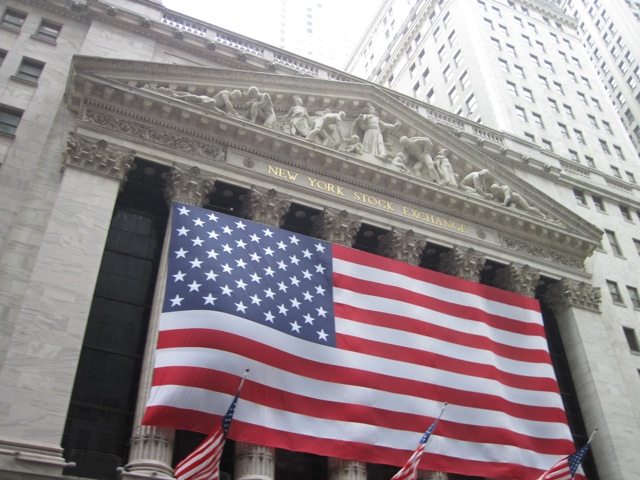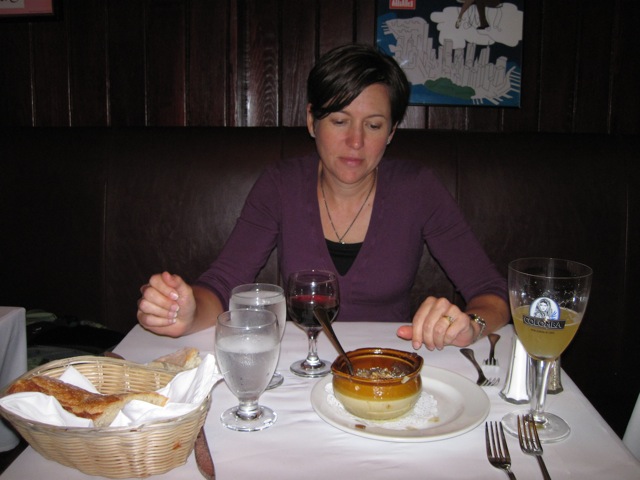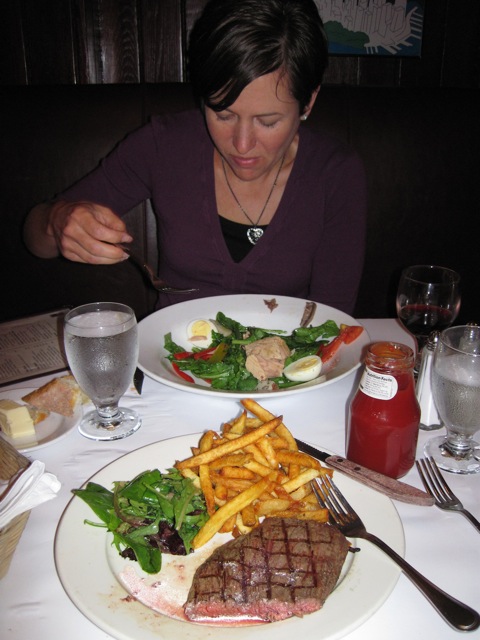 From Les Halles, we grab the subway yet again and head to Soho. Its really pouring now, and we duck into Dean and Delucca for something hot to drink and to wander around a bit. There is a street market, but with the rain, it seems to close early and not be very popular. We do find a few things in Dean & Delucca and have to ship a pig home.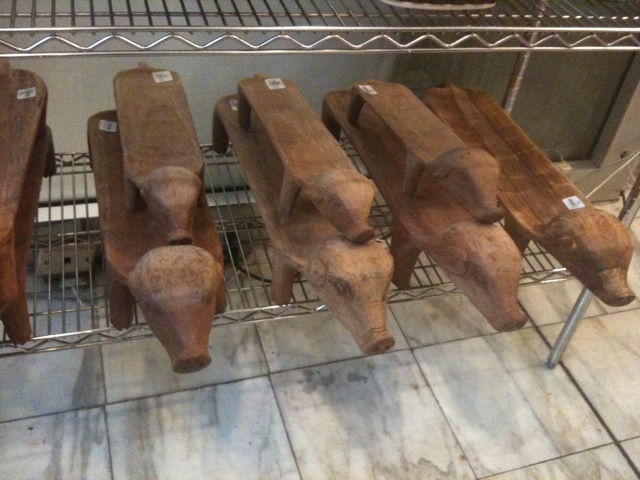 From Soho, we cross over to wander down through Little Italy and into China Town. Neat to see, but not as big a draw to us after our experiences in the markets and shops of the chinese section of Singapore. We stop for a beer in Little Italy and to decide where to go for dinner. We use Urban Spoon and some other iPhone apps to narrow it down to a place called RubiRosa. It might not be much, but we love it. We sit in the back right next to the pizza oven, a huge brick oven with rotating shelves. The "cooks" (I wouldn't call them chefs), are putting the pizza together right next to us and we have fun watching and asking questions. We order a cheap bottle of house red, a meatball bruschetta, a carmelized onion and duck brushetta and a pizza. For the pizza, we do half vodka sauce with fresh mozzarella and sliced sausage, and half traditional sauce with regular mozzarella, broccoli rabe and mushrooms. Its delicious. Dessert is a cobbler put in the pizza oven and topped with gelato or ice cream.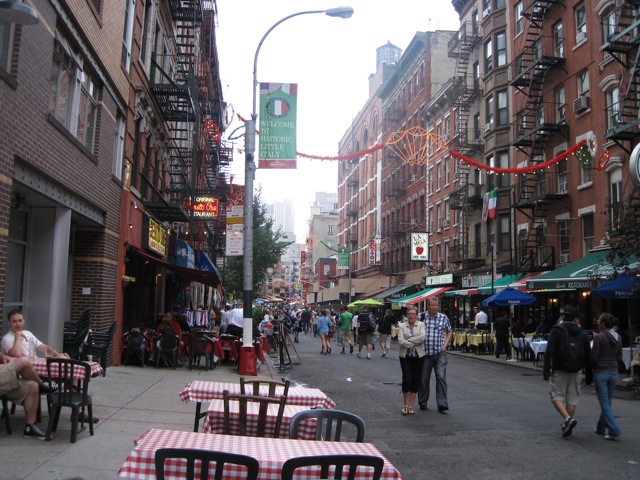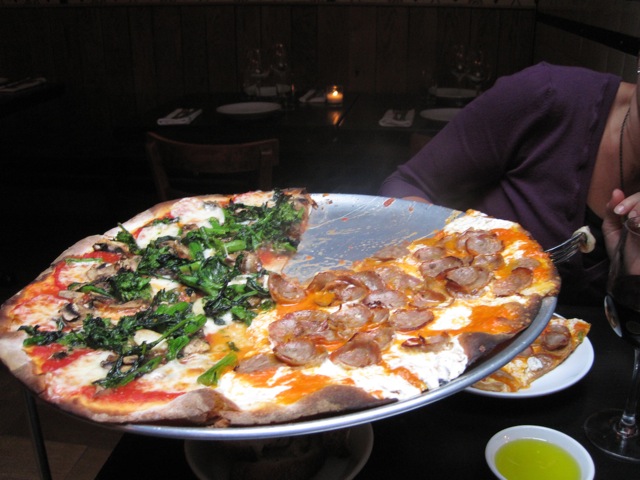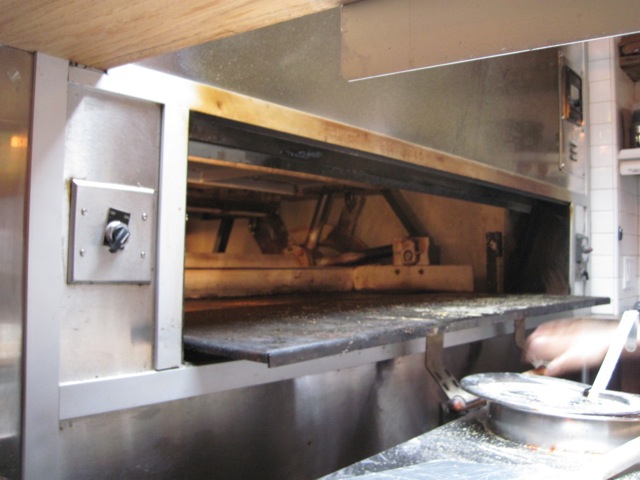 After dinner, we take the subway back to midtown and look for a little place Jill has been called the Milk Bar. The cookies (and crack pie) are delicious. We ask the clerk for a good place to have a cocktail and she recommends "right down this hall behind me". Behind the Milk Bar is Ma Peche, one of the Momofuku restaurants, and its bar. The drinks are unlike anything we have had before and we steal a menu and get instructions on making some at home. Check the menu link there for descriptions, but we had a Jim Joe, a Seven Spice Sour, a Moscow Mule and a Dark and Stormy. All excellent!
Sunday
We sleep in again. This is normal for Jill, but pretty unusual for Keith. We had ordered coffee and hot tea delivered to our door early enough to go run in Central Park by 8 am, but we left it outside the door and slept in. We finally head to the park around 10…
We had known the Puerto Rican day parade was going to be on 5th Avenue starting at 11 am, but we didn't grasp just how big and invasive it was going to be. Sort of like the time we were accidentally in New Orleans for the Essence Festival. We get to the park just fine and enjoy running and exploring the park and the upper west side. From there we head down to the Carnegie Deli, where we figure out since they only take cash, we can only order one dish. We go with the corned beef hash with 2 fried eggs and its way, way more than we could eat, so that worked out well.
We make a quick stop in a Starbucks (why can't they ever get Jill's order right?) and then head back towards out hotel. We walk by the soup place immortalized by Seinfeld on the way. As we approach 5th, we know we're in trouble: it's a mess. Packed with people, all blowing whistles, loud music, floats, and tons of police (there was talk about violence in previous year parades). We push along 5th until we find a somewhat convenient crossing and get away from the crowds. We cut through the Olympic Tower (Jackie had an apartment there) and finally escape to our room. After evaluating our options, we decide its best to just pack up and head to Penn Station (or really, anywhere away from the constant whistle blowing…) Somehow we made it through the whole trip on public transportation, never a single cab ride.
We make a half assed attempt to squeeze in a little more sight seeing, but really we are just ready to head home. We decided years ago (honeymoon) that we have a 3 day limit per city and we're definitely pushing the limit.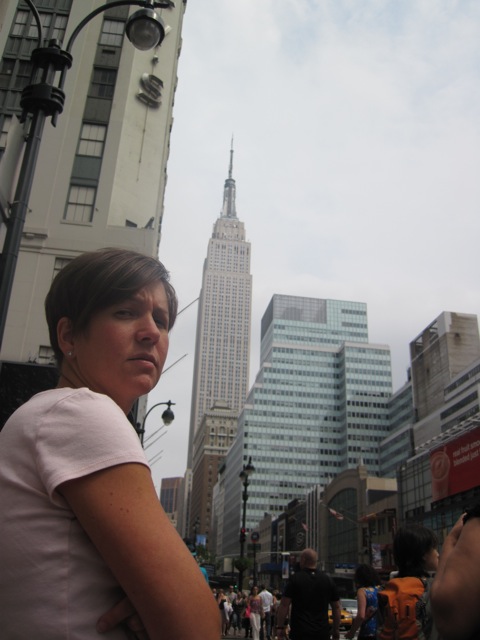 We jump the train from Penn Station and start the trip back home, which is the exact opposite of our trip to NY : slick and well executed. Keith is first out of the terminal, runs for the parking spot bus, and is back to the terminal before the bags start coming up. Through the Houston toll roads and home fast to our kids.