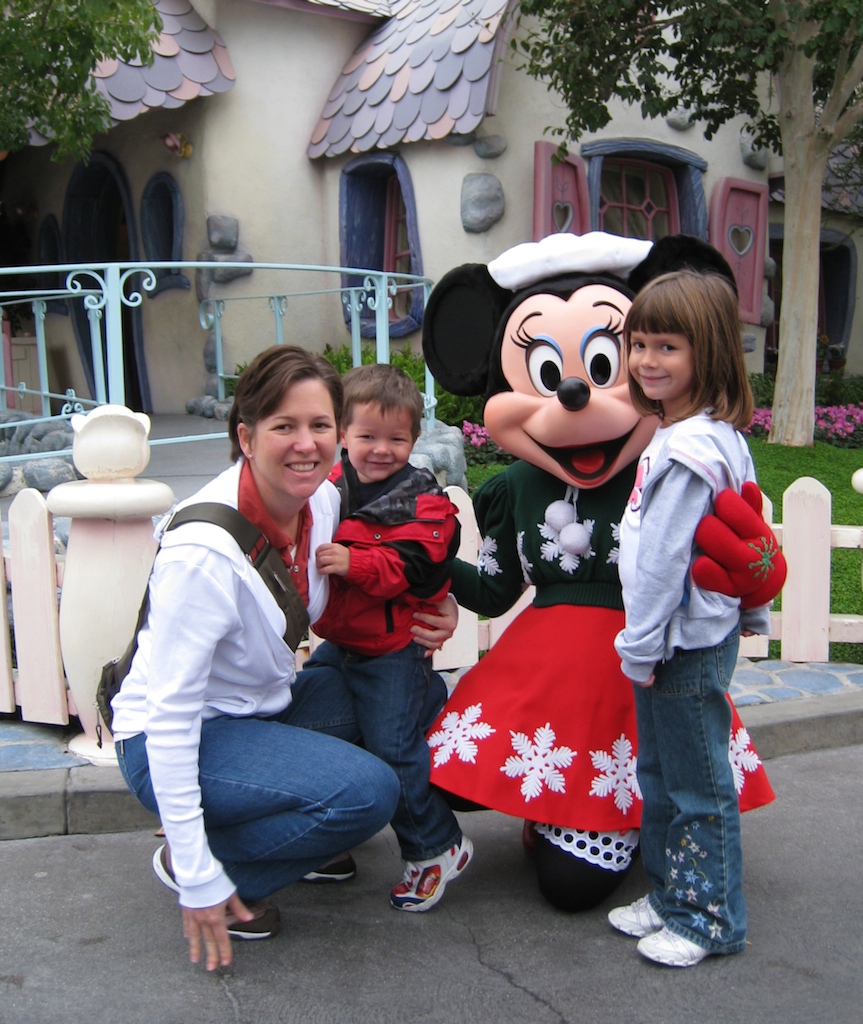 Disneyland 2007
Disneyland 2007
This year for thanksgiving holiday, we went to California to see Disneyland. After months of planning (mostly by Jill) and hyping up the kids, we were pumped up and ready to do everything.
Day 1 – Disneyland
We had early entry passes to Disneyland to let us in at 7 am. We didn't know the shuttle buses started before that, so we decided to walk the 3/4 mile there. After some trouble locking our door (it wouldn't) Keith had to jog to catch up to the others, and then Jill was stuck waiting for the will call window to open at 7 am, while the rest of us held a spot in line. She ran over just as we made it to the gate. Its a whole lot of fun to be there when it opens to count down and stream in.
We fast walked across the park to hit the latest big attraction, Nemo's submarines, but found out it was in maintenance and not open. Instead we went to Fantasyland and rode several of the rides over and over with no lines. It was fantastic. Evan loved Dumbo because you could control the height of the elephant, and the girls loved Peter Pan.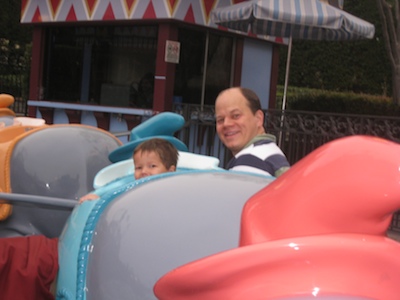 Evan getting ready for take-off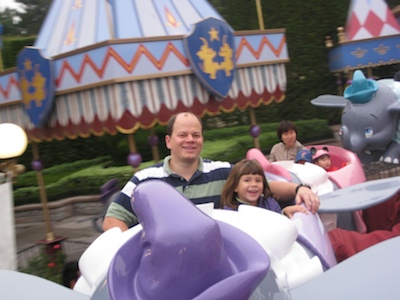 Ella rides with Keith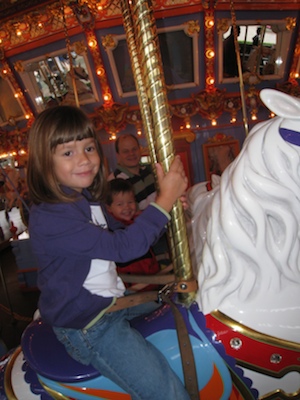 Carousel in Fantasyland
We continued to take advantage of being early in Adventureland where Jill and Keith got to ride Indiana Jones, and the kids (and Keith) ran up and down the hundreds of steps in Tarzan's treehouse. After that, we went through New Orleans Square to ride Pirates of the Caribbean and the steamboat.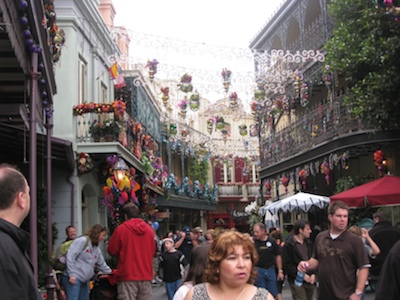 New Orleans Square decorated for Christmas
Kids on the steamboat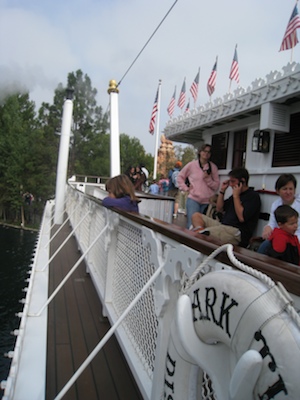 A moment to rest
After that, we took a train ride halfway around the park and then grabbed the shuttle back to the hotel for an afternoon nap.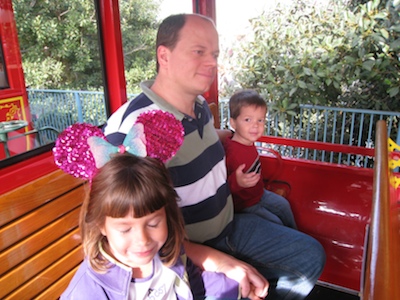 Train ride
After a very long nap, we jumped the shuttle back to the park and then hung out until parade time. We had a great spot with a real place to sit.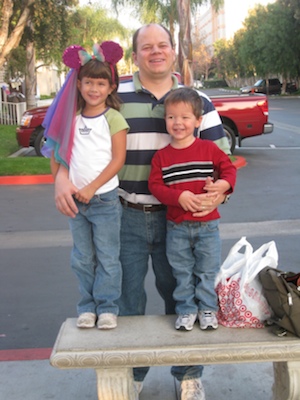 Waiting for the shuttle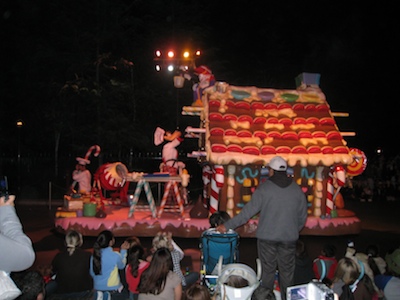 Goofy and son on parade
Santa was the last float
That was pretty much it for us that night.
Day 2 – Legoland
We got to sleep in and then take a leisurely drive down the coast to Legoland. After a quick stop at Starbucks, we went into Legoland to find a nice, smallish park that seems built for the stay at home mom crowd. Ride lines were bad, but there was lots to do that didn't have a line. Although Keith reminisced about his childhood visits to Legoland and the driving instruction that was a part of it, we skipped that at Legoland. We did some other rides, including Safari driving, but not the driving instruction.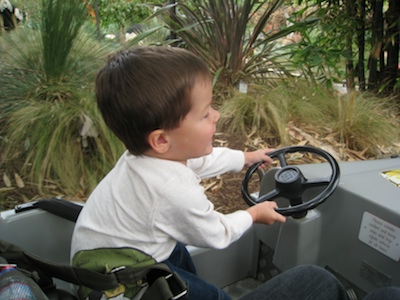 Evan on Safari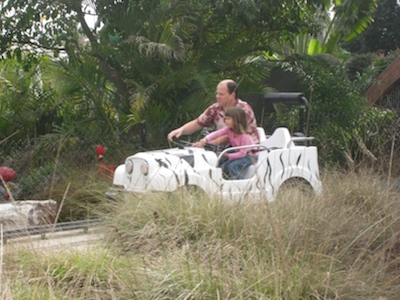 Ella and Keith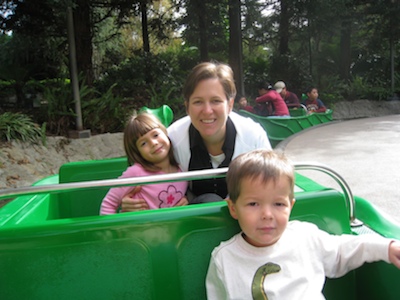 A fairy tale lego water ride
One of the most fun things for the kids (and Keith) was a musical fountain controlled by jumping on circle around it.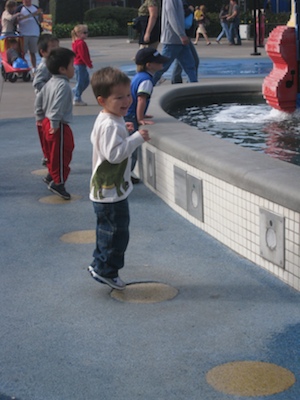 Evan jumping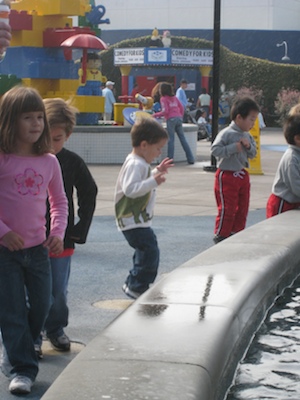 Everyone going nuts
They had some open play areas where you could buy what you built and there was a factory tour. And lots and lots of big things built of legos all over. The cities were neat, but didn't hold the kids' attention too long.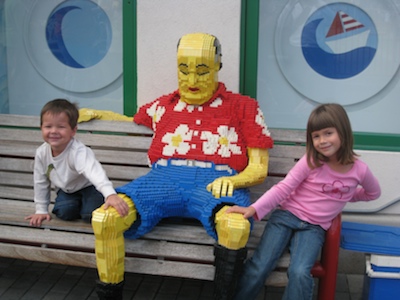 The kids find daddy asleep on a bench
The real highlight was building your own race cars and racing them against others.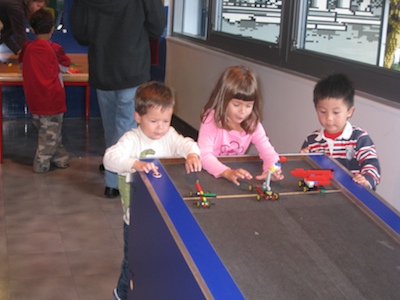 The first designs by both kids were pretty wild looking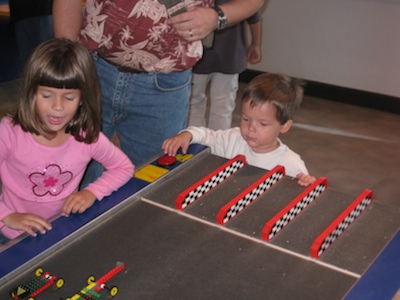 Lots of racing
Ella watched the cars that beat hers and kept changing her design. By the end, she just had a single axle with wheels on it.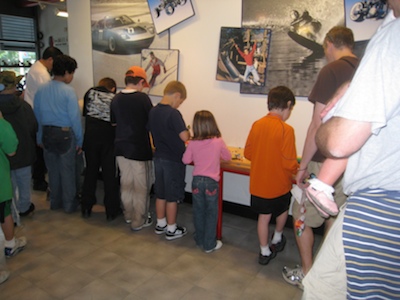 Back to the drawing board
After a tearful exit from car racing, we hit the only real non-kiddie rides at Legoland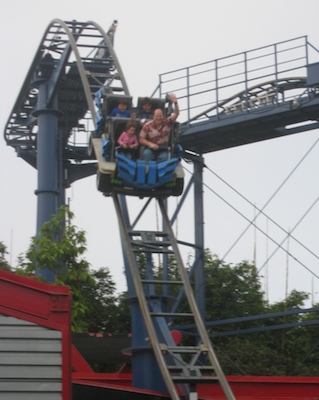 Ella and Keith on a roller-coaster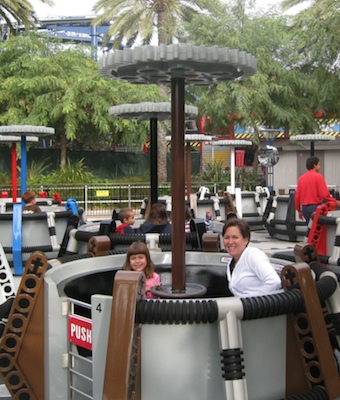 Ella and Jill go for a spin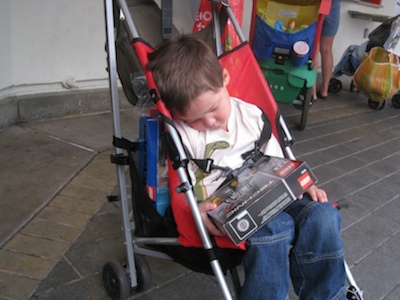 Evan was pretty wiped out. But he picked out something at the store
We headed back up to Anaheim and grabbed dinner in Downtown Disney and then hit the sack.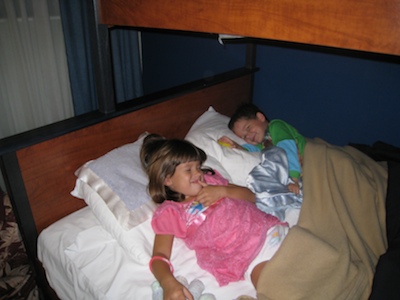 The kids playing in the bottom bunk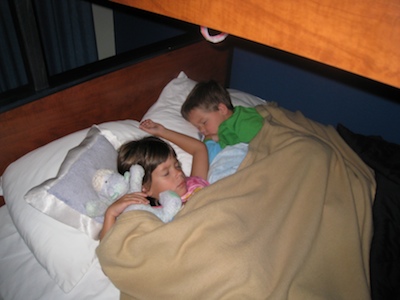 Two minutes later
Day 3- California Adventure
We started at California Adventure, so were able to sleep in a little later than Disneyland days.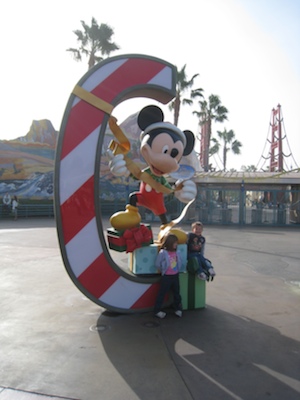 The C in California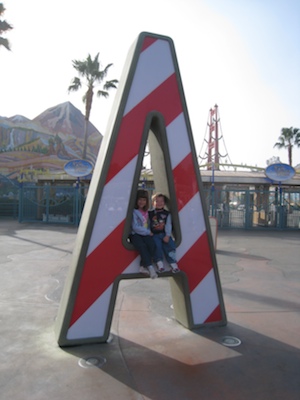 And the A
We started with California Soarin' (twice!) and then through Hollywood Pictures Backlot. Then Ella and Keith rode the Tower of Terror, which Ella said was fun, but too scary to ride again. We had lots of character sightings. We went through A Bug's Land and then to lunch.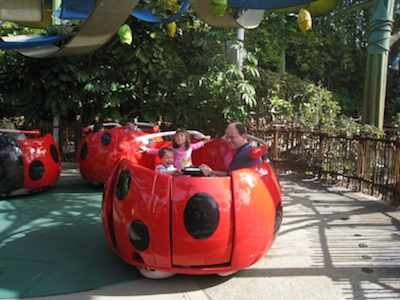 A ride in Bug's Land
Lunch was at Ariel's Grotto. Lots of princesses.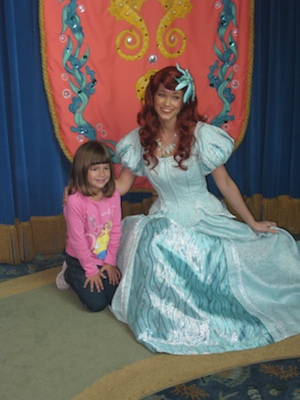 Ariel and Ella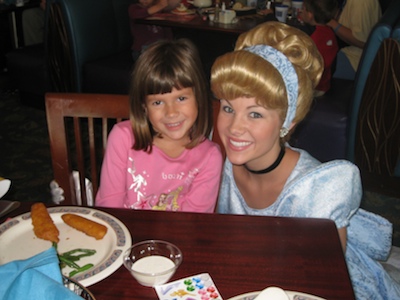 Cinderella and Ella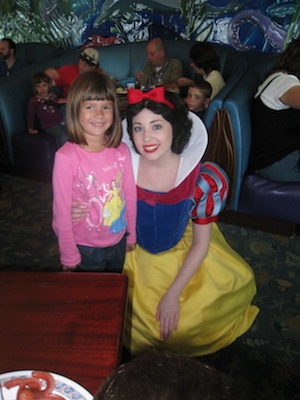 Snow White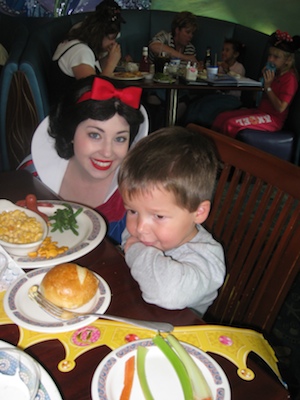 Evan thought the princesses were interesting, but he wasn't that into it (yet)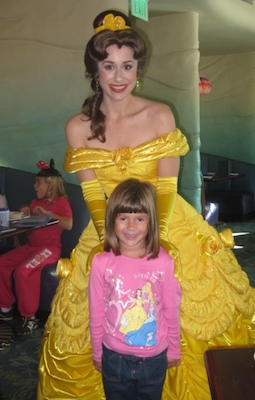 Ella and Beauty (no Beast)
Aurora (Sleeping Beauty). They were all very friendly and personable
Evan was pretty wiped out, so he and Jill went back to the room while Keith and Ella rode as many rides s they could. Ella's favorite was the river raft ride, even though we got a little wet. As opposed to the Japanese guy in our raft who was soaked from head to toe 3 times.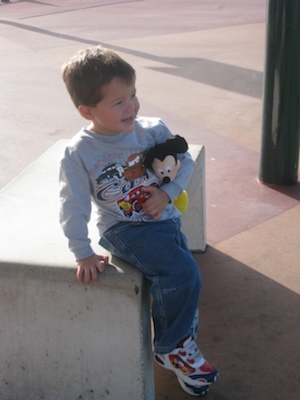 Evan got a Mickey Mouse before heading back
After naps, we headed back to Disneyland. We got to ride in the nose of the monorail.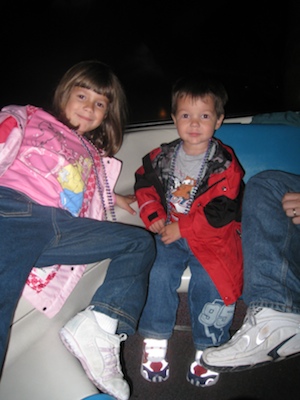 The kids loved the monorail
We had reserved seats with a dessert box for the Mickey Fantasmic show. It's my dream!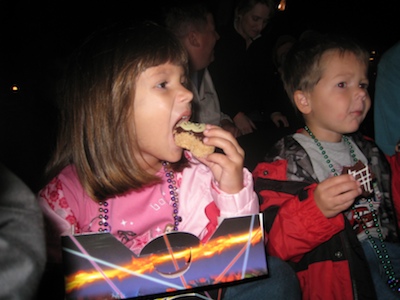 Dessert boxes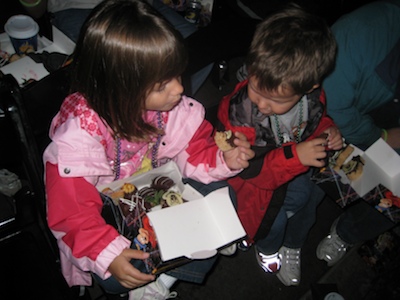 The kids checking out what the other likes best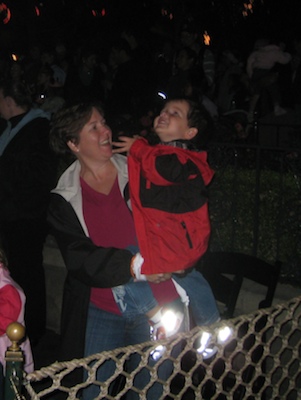 After the show, there was snow (foam)
Day 4 – Disneyland
Another early entry day, but this time we rode the shuttle. And we got to ride the submarines. After that we went to Toon Town to see where the toons live.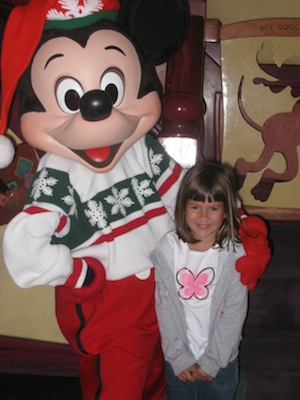 Ella and Mickey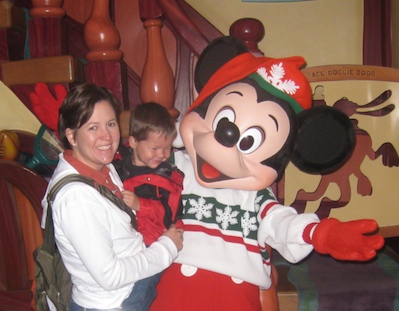 Evan was all smiles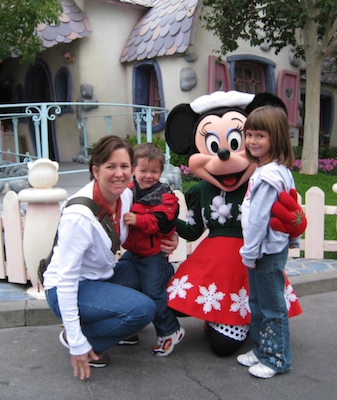 Meeting Minnie
After that, we pretty much hit the stuff we missed the first day and the best stuff again. Circus train, a couple of roller coasters for Ella, the autotopia a few times (Evan loved making the car ram into the track, while Ella was a very controlled driver), and the monorail twice more (once in the tail and once in the middle).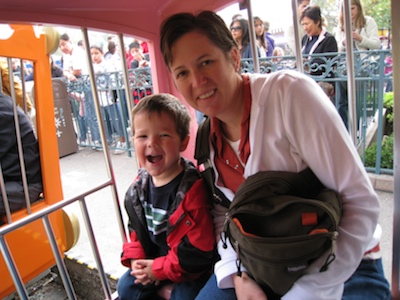 Circus Train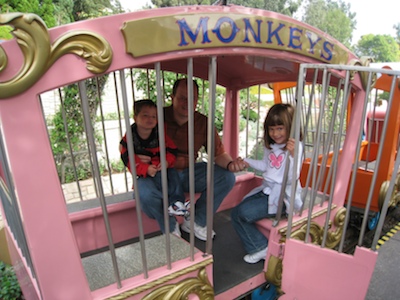 Bunch of monkeys, indeed
Dinner that night was in Downtown Disney at Goofy's Kitchen. The kids really enjoyed Goofy's. The characters were funny and friendly and the food was right up their alley. Ella even tried popcorn shrimp for the first time and loved it.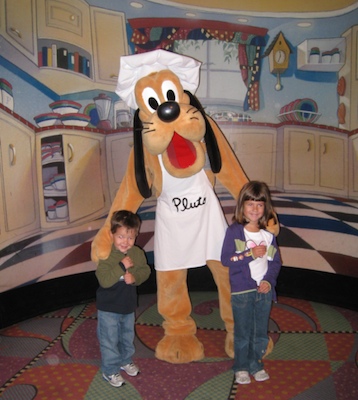 Meeting Pluto as we went in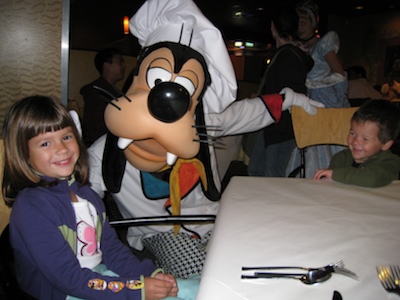 Goofy getting the kids laughing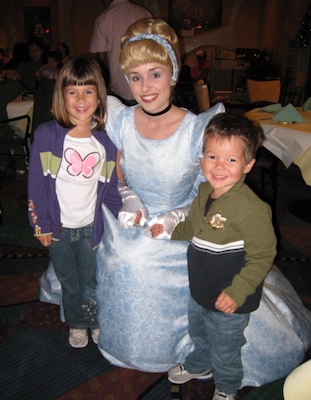 Cinderella, and this time Evan loved it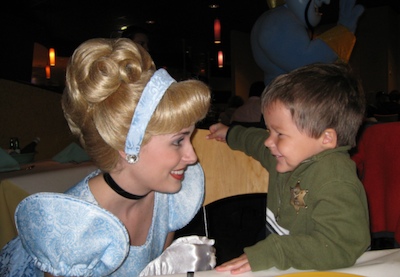 Cute, huh?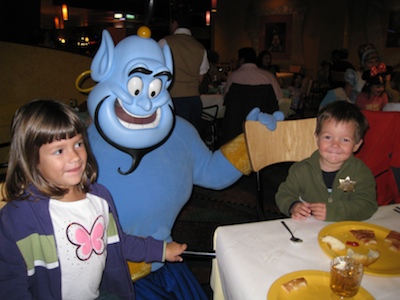 The genie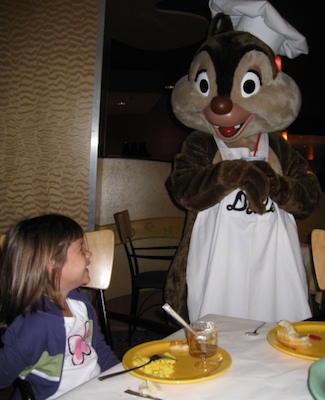 Dale was a real ham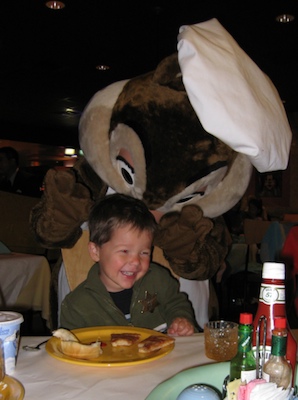 He'd get Evan's head every time he walked by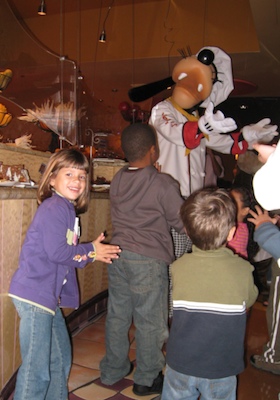 Every ten minutes or so, something would happen, dances or games.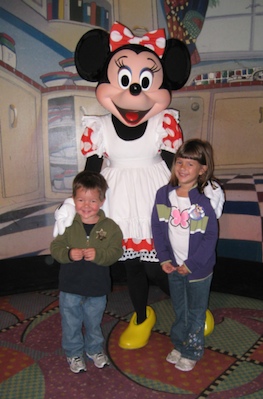 Minnie was even there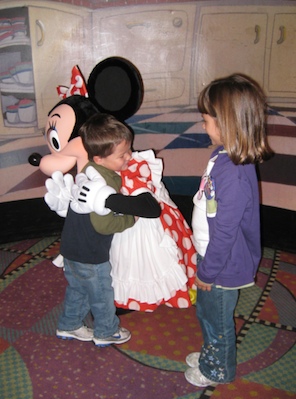 And Evan was loving it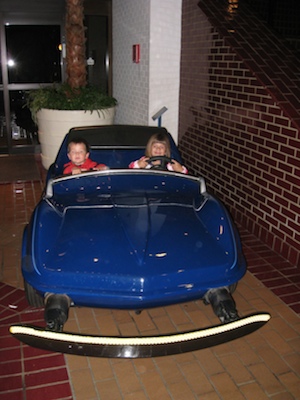 They had an autotopia car in the lobby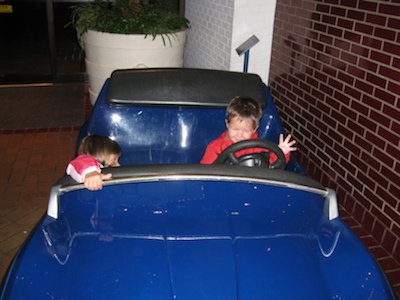 Kids had fun playing in it
The lego store after dinner. Evan was definitely winding down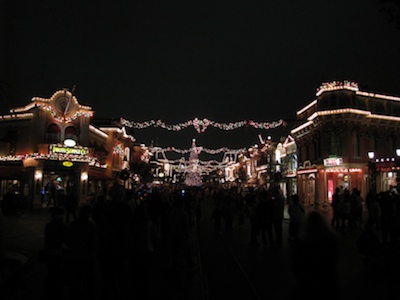 Main Street at night, decorated for Christmas
We had a great time and the kids loved it. We'll have to do it again soon.